USS Horne CG-30/DLG-30
America's Finest Cruiser


HOME | HISTORY | DECKLOG | AWARDS | PHOTOS | REUNION | MULTIMEDIA | COMMUNITY | NEWSLETTER | STORE | DUES
THE SHIP - CONSTRUCTION - COMMISSIONING
ODDS & ENDS - SHIPMATES - HORNE TODAY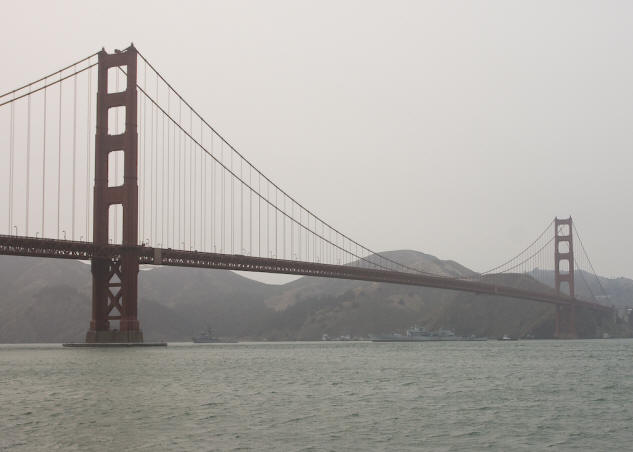 On June 26, 2008 Horne began her final voyage. She was towed by the Ocean Tug USNS Navajo from San Francisco Bay (photo above) to the waters off the Hawaiian Islands. She served as a target ship during RIMPAC exercises. Details and photos of this final chapter in Horne's history can be found on the Sink-Ex page

On February 26, 2008, Horne was moved from her Suisun Bay location where she was prepared for what's commonly referred to in the Navy as a Sink-Ex... short for Sinking Exercise. On June 26, 2008 she was towed from San Francisco Bay to a remote location near the Hawaiian Islands. Horne was spared the ship-breakers in Brownsville, Texas and instead performed one final mission as a target during RimPac2008. Details and photos of this final chapter in Horne's history can be found
on the Sink-Ex page

On September 27, 2004, I had the distinct privilege of visiting Horne in Suisun Bay, California. I accompanied Mr. Peter Papadakos and a group of volunteers helping to restore USS Joseph P. Kennedy Jr. (DD-850). I took more than 100 photos inside and on Horne. She is still a very proud ship, but if you would prefer to remember her from her better days, I suggest you do not look at these images. If you, however, want to view what more than likely will be the final photos ever taken inside Horne you may CLICK HERE.
SUISUN BAY AUGUST 9-13, 2004

Acting as lead Volunteer for the West Coast restoration team for the destroyer USS JOSEPH P. KENNEDY JR (DD-850), Mr. Peter P. Papadakos lead a team of volunteers and visited Horne from August 9-13, 2004. CLICK HERE to view photos taken by Mr. Papadakos.
SHIP BREAKING

Horne sister ships England, Halsey, Standley were all towed to Brownsville, Texas for Ship Breaking. It appears as if Horne will be spared this fate as she is apparently being readied for a Sink-Ex.

You may read an article about Ship Breaking that appeared in the October '04 issue of Forbes Magazine by CLICKING HERE. This article "features" Horne sister ship Gridely (CG-21). I think you will agree. It's much better Horne be sent to the bottom of the ocean than to Brownsville, TX.
CG-31 HEADED FOR SHIP BREAKING


The four photos above are of the USS Sterett (CG-31) being towed from
Suisun Bay 17OCT05 and heading toward Brownsville, TX for scrapping.


Decommissioning Program
CLICK to read.



Last POD (2.4.94)
Courtesy BT1(SW) Babcock


Horne says its final goodbye to San Diego as it's towed north toward Suisun Bay away from Point Loma (seen on the left).
Courtesy R.J. Scherl (photo taken from USS Essex)


Horne being towed to Suisun Bay near Golden Gate Bridge. 17 March 1994
Courtesy Kurt Greiner - SeaPhotos

Suisun Bay Photo Section
CLICK TO ENTER


Horne's Home Port 1994-2008
Source: http://www.fas.org/irp/imint/benicia-mid.htm


Down Periscope - Courtesy Twentieth Century Fox
Mothball CGs in background



Courtesy HM1Ron Carson


Courtesy HM1Ron Carson


Courtesy HM1Ron Carson


Courtesy HM1Ron Carson



If you have Horne Photos not shown above, please contact me!


This site was created by Joe Westerberg, former IC1 (SW) on Horne 89-91.
Contact: ic1@usshorne.net