HISTORY:
Built by San Francisco Naval Shipyards - Hunters Point, California. Keel laid -12 Dec 1962.

Christened 30 Oct 1964 by Mrs. Frederick Horne, wife of Horne's namesake. (see letter from Mark Croshier, son of Mrs. Fredrick Horne)Also removed from dry dock and floated for the first time 30 Oct 1964.

Commissioned 15 Apr 1967. See special Commissioning Section

First put to sea April 24, 1967.

Accepted to US Navy Pacific Fleet July 7, 1967 by Capt Stansfield Turner, for the US Navy.

Decommissioned Feb 4, 1994 at the 32nd St Naval Station, San Diego, California. See Decommissioning Section

Transferred to the mothball fleet where she can been seen HERE.

In 2008, Horne served as a target ship in the Rimpac exercises near Hawaii. See the Sink-Ex page.



FREDERICK J. HORNE:
Named after Frederick J Horne, 1880-1959. His personal motto became the Horne's motto- "L'Audace, Toujours L'Audace," meaning "Audacity, Always Audacity". (Except that the Horne engineers knew it really meant "Steaming, Always Steaming.")

CAPTAINS:
Captains in chronological order:
Stansfield Turner, Archy Lupia, William Glaser, Edwin Woods, David Altwegg, Lawrence Layman, James Barber, Charles Beasley, Keith Stewart, Brenton Hardy, Edwin Killinger, Edward Long, Thomas Barnett, Nathan Beason, Robert Johnston



SHIP CHARACTERISTICS:

547' length, 55' beam, 28' navigational draft, 8000 ton displacement, 4 Combustion Engineering 1200 psi D type boilers, 850-975 degree boiler operating temps, gas mileage- 93 gallons per mile, 2 propeller shafts, 5,000 hp per shaft, max speed 36 knots (however, Lt. Robert Hall, '70-'72, claims that during reftray one night off the coast of San Diego, Captain Glasser got her up to between 48 and 50 knots), 551,852 gallon gas tank, 24 officers & 420 enlisted men, anchor weight- 5.1 metric tons on center anchor & 2 metric tons on the starboard anchor, over 200 telephones, over 300 compartments, carried over 2 miles of firehose, produced 24000 gallons of fresh water per day, about $1,000,000 monthly payroll, served over 1300 meals per day. Traveled over 750,000 miles in her life.

ARMAMENT:
Main Battery: 1 FMC 5"/54 (Mk 42) Mod 10 mounted aft
Secondary: 2 x 3"/50 cal AA in 2 mounts amidships
removed in NTU to make way for Harpoon canisters
SAM: 1 twin Terrier Mk-10 Mod 7 w/60 Terrier missiles upgraded to fire GDC Standard SM-2ER in 1970s
SSM: 8 x Mk-141 Harpoon ASM in two quad launchers (added in NTU)
CIWS: 2 GE/GD 20mm/76 Phalanx 6-barreled (Mk-15) amidships (added in NTU)1 starboard 1 port
ASuW: 1 twin Mk 10 Mod 7 w/20 Honeywell ASROC
Torpedoes: 2 x 21" port and starboard transom torpedo tubes (removed in NTU) 6 x 12.75" MK 32 SVTT (2 triple) tubes (added in NTU)

RADARS:
Air Search: ITT SPS 48C 3D Raytheon SPS 49(V)3/5
Surface Search: Norden SPS 67
Navigation: Marconi LN 66
Fire Control: Western Electric SPG 53F 2 Sperry/RCA SPG 55D
Sonars: EDO AN/SQS-26BX

MEDALS AWARDED: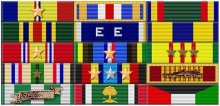 See the Awards Page for a list of medals / ribbons awarded to the USS Horne.

CHRISTENINGS:
"When a baptism is held aboard a vessel, the ships bell is inverted and used as a baptismal font. Traditionally, the name of the person baptized is then etched in the ship's bell." 4 baptisms occurred on the Horne, dated Nov 2, 86; Dec 27, 86; Aug 8, 92 & Dec 19, 93



HISTORY:
See also Welcome Aboard (1967)
Horne is one of 9 cruisers in the Belknap class. (See: Sister Ships) At the time of their construction they were classified as Guided Missile Frigates. The were the largest and most powerful Frigates build by the United States Navy. Horne was originally classified DLG-30 (Destroyer leader, guided missiles). The Belknap class was reclassified on July 1, 1975 to CG-30. The Navy reclassified the frigates to full cruisers and the Destroyer Escorts to frigates or fast frigates, to match the rest of the world's Navies. (For those who who were onboard in a stormy sea the day of the reclassification, the standard joke was "Boy, I'm sure glad to be off those tin cans, these cruisers ride so much better.)
Construction
Construction of Horne was authorized by congress for fiscal year 1961. It was cold and foggy on December 12, 1962 when Horne's keel was laid in Hunters Point Dry Dock Number 2 of San Francisco Bay Naval Shipyard. On October 30, 1964 Horne was christened by Mrs. Edyth J. Horne, widow of the late Admiral Frederick J. Horne, Horne's namesake, with the traditional bottle of champagne.
As Horne was built in a dry dock, upon christening, the dry dock was flooded and Horne was floated for the very first time to a pier at Hunters Point for fitting out.
In 1966 Horne's construction had progressed to the point where the ship started to come alive and first fires were lit under 1A boiler by Hunters Point Shop 41 Boilermaker Walt Loeblein. On April 15, 1967, USS Horne (DLG-30) was placed in commission, Captain Stansfield Turner, USN, Commanding.
The same brass speaking trumpet which Admiral Horne, then a Lieutenant (junior grade), used to call his men as they worked aloft in the sailing ship USS Alert was used in the commissioning ceremonies to call away the first watch.
Underway
On April 24, 1967 Horne was underway for the first time for Builder's Trials and Horne fired her guns and launched her first missiles in subsequent trials in May and June, 1967. Horne was formally accepted by Captain Stansfield Turner for the US Navy on July 7, 1967 and became an operational unit of the U.S. Pacific Fleet. Arriving that summer in San Diego, her home port, Horne commenced a long association with America's Finest City.
STANSFIELD TURNER 1ST PRE DEPLOYMENT LETTER
SENT TO FAMILY MEMBERS 17 MAY 1968
America's Finest
The San Diego County Women's Council of the Navy League of the United States adopted Horne in 1967 and the relationship continued throughout her life. Horne Became known as "America's Finest Cruiser" as a result of her long association with San Diego, "America's Finest City." Horne was also routinely referred to as "Navy's Finest Cruiser". In 1976, Horne represented the Navy as the 4th of July Bicentennial visit ship at the Broadway Pier in downtown San Diego.
Deployments
Horne was deployed overseas 14 times. Four of the deployments were to the waters off Vietnam, three were to the Western Pacific, six were to the Indian Ocean, North Arabian Seas and Persian Gulf and one was to the South Pacific.
Vietnam
On her four Vietnam deployments, Horne served on "Yankee Station" in the Gulf of Tonkin during the Vietnam Conflict. Horne distinguished herself many times during these war zone deployments.
In both 1968, during Horne's first deployment, and 1970 air controllers in Horne directed American fighter planes in action which resulted in the downing of two North Vietnamese MIG21 Interceptors. Also during Horne's first deployment, Horne's embarked SH2 helicopter conducted a dramatic night rescue of a downed U.S. Navy Pilot from a North Vietnamese beach, saving the pilot from capture.
South Pac
During Horne's deployment to the South Pacific in 1978, Horne made 15 port visits in three months, visiting countries which had not see a good will visit from an American ship since World War II.
American Hostages in Iran
On January 21, 1981, Horne was on station in the Persian Gulf when Iran freed 52 American Hostages held captive for 444 days in Tehran. Horne tracked the progress of the Airliner that carried the hostages to freedom and had "birds on the rails" to be used in the event any aircraft in the region threatened the Americans.
Desert Storm
On December 7, 1990 Horne deployed to the Persian Gulf as part of Operations Desert Shield and Desert Storm. While on station as the northernmost navy ship in the Persian Gulf, Horne controlled more than 570 aircraft. In support of the air campaign, tanker aircraft under Horne's control dispensed over 16 million pounds of jet fuel to coalition aircraft. Horne also controlled naval strike aircraft in attacks on fourteen Iraqi surface ships, destroying six with six being heavily damaged and put out of action. Horne's ability to provide air control and missile coverage over the gulf contributed directly to the total destruction of the Iraqi navy. Toward the end of the campaign, Horne was on station 10 nautical miles northwest of USS Tripoli and 7 nautical miles northeast of USS Princeton when those vessels struck mines. Despite the demonstrated danger of the minefield, Horne remained on station providing anti-air protection for the stricken warships. While on station Horne detected three moored contact mines and Horne's helicopter flight crew sighted a drifting Iraqi mine which Horne destroyed. After the cease fire and the Iraqi disclosure of the location of their minefields, it was determined that Horne had been sailing in Iraqi mine fields for 12 consecutive days!
Counter-Narcotics
In an example of the changing roles U.S. naval forces are assuming, from September to October 1992 Horne steamed off of South American conduction counter-narcotics operations. During this period, twelve suspected narcotic-trafficking aircraft were tracked, resulting in four apprehensions netting over 1000 kg of cocaine, 150 kg of marijuana, eleven arrests and the seizure of 2 aircraft and 9 vehicles.
Somalia
Horne's 14th and last overseas deployment was back to the Indian Ocean and Persian Gulf. While en route to the Persian Gulf Horne was diverted to Somalia to assume duties as Commander, Naval Forces Somalia during Operation Restore Hope. Horne operated off Somalia for over a month supporting United Nations operation ashore.

Last Foreign Port
Horne's last foreign port of call was to Victoria, British Columbia, 27 October to 01 November, 1993. This visit provided a symbolic end to Horne's overseas adventures as Victoria had been Horne's first foreign port of call in September, 1967. On the trip back to San Diego, Horne proved there was still life in the old girl when she attained and held a speed of 36 knots (41 miles per hour), a speed faster than she had made during her initial sea trials in 1967.
Final Cruise
On November 6, 1993, Horne went to sea for the last time. Her last voyage was a dependent's day cruise, where all of the friends and family of Horne's crewmembers went out to sea to celebrate this fine ship on her last day at sea.

At 1644 on November 6, 1993, in a solemn ceremony in the after fireroom, BTC(SW) Richard Manis secured fires on Number 2B boiler for the last time, symbolizing the beginning of the end to Horne's service to the fleet and the nation." Traditionally the forward-most boiler is the first boiler lit off during building, and the after-most boiler is the last boiler secured prior to decommissioning.
Reunion 2003
On September 28, 2003, Horne held it's first ever ship's Reunion. More than 140 people attended including 30 Plankowners and their guests. You can read all about it in the Reunion Section.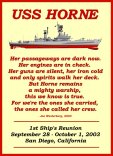 CLICK TO READ
Suisun Bay
From 1994 until 2008 Horne was part of the Suisun Bay Fleet Reserve near San Francisco. She can be seen along with her sister CGs HERE. I visited Horne in 2004.


CLICK HERE TO SEE PHOTOS FROM MY 9/27/04 VISIT TO HORNE
Sink Ex
On February 26, 2008, Horne was moved from her Suisun Bay location to a new location in Richmond, California where she is being prepared for Sinking. CLICK HERE for the latest information and photos available regarding this final chapter in Horne's long history.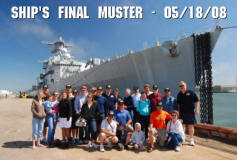 Final Muster
On May 18, 2008, as Horne was being readied for transport to her final destination, a final muster was held. 10 former crew members, including 3 plankowners and several family members and guests gathered to say a final goodbye to Horne. CLICK HERE for photos, a video and comments about this event.
The information contained on this page was compiled from Mike "Papa Joe" Hempkin, Paul Crowley, former Horne CO's Stansfield Turner, Thomas Barnett, the Horne decommissioning booklet and various other sources including San Francisco Bay Naval Shipyard's April 14, 1967 issue of "TIE LINE" and the "Welcome Aboard" booklet, both contributed by Plankowner GMMC Johnson. If you have anything to add, please email it to me or contact me!