USS Horne CG-30/DLG-30
America's Finest Cruiser


HOME | HISTORY | DECKLOG | AWARDS | PHOTOS | REUNION | MULTIMEDIA | COMMUNITY | NEWSLETTER | STORE | DUES
THE SHIP - CONSTRUCTION - COMMISSIONING
ODDS & ENDS - SHIPMATES - HORNE TODAY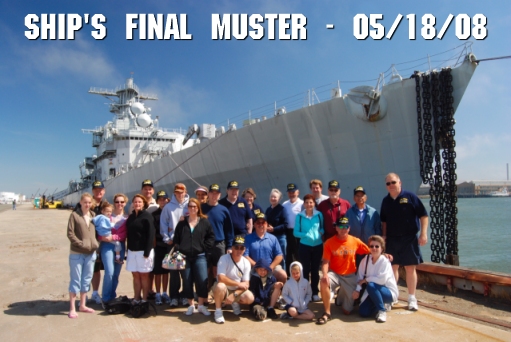 On Sunday, May 18th at 10am in Richmond, CA.
10 former Crew and several family members were on hand to say a final goodbye to Horne.
Of all the thousands of musters held on or near Horne, this was the final muster
that included former crew members. The following photos were all taken on this day.
Click on photos to enlarge. Thanks to all who attended. Special thanks to Plankowner
Sergio Marquez who traveled all the way from Tucson, AZ to attend and to Mark Theis
who drove all the way from Yuma, AZ to attend. Plankowner Russ Purinton and his
wife drove from Reno, NV. Thanks again to everyone for making this a special day!

Final Muster - Former Crewmembers (L-R)
Ed Young (69-73) - Richard Green (84-87 - Russ Purinton (66-71) - Tim Kelley (69-73) - Rudolph Brdderman (66-68 -
Sergio Marquez (66-69) - Joe Westerberg (89-91) - Richard Evenson (72-75) - Mark Theis (73-75) - Louis Bamberger (82-85)
(note: The brow banner is the original Horne banner used throughout the late 1980's and early 1990's)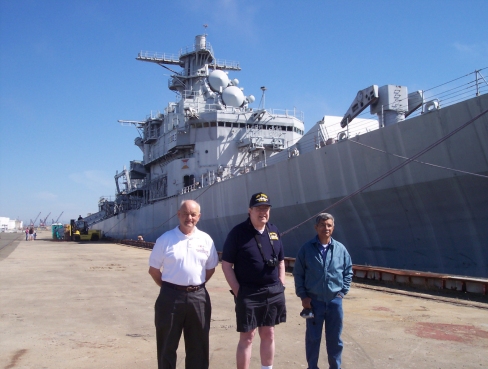 The Plankowners
Just across the bay from where this photo was taken, these three gentlemen helped complete
construction of Horne at Hunters Point more than 40 years before this photo was taken.
Rudolf Bredderman (left) served as Horne's first Weapons Officer from 1966-1968.
Russ Purinton (center) served in Horne as a Sonar Technician from 1966-1971.
Sergio Marquez (right) served in Horne as a Boiler Tech from 1966-1969.
Thanks to Rudolf, Russ and Sergio. They were a part of Horne from the very beginning
and were on hand to say goodbye during this final Horne muster on 05/18/08.
(photo: Helen Bredderman)
| | | |
| --- | --- | --- |
| bow with tow chain installed | former crew and guests | terrier launcher |
| bridge | 5"/54 - photo: Bredderman | port side across the bay - photo: Bredderman |
| aft shot | stern | port side aft across the bay |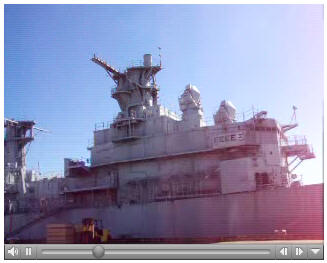 Click HERE to watch a very short video. You will hear the voice
of Helen Bredderman, wife of Plankowner Rudolf say the following:
"This is the USS Horne in Richmond. It's sad. Sunday, May 18th, 2008."
Thanks to Helen and Rudolf Bredderman for the video!


This site was created by Joe Westerberg, former IC1 (SW) on Horne 89-91.
Contact: ic1@usshorne.net