2009 REUNION CRUSE
CANCELLED
Shipmates,

I regret to inform you that Carnival Cruise Lines has canceled our Reunion Cruise. The reunion committee worked hard on ensuring that all would have had a great time. I want to take this moment to thank Joe & Rufus for the time spent for this reunion and thank all that planned on attending.

Lou Maggi
Reunion Committee President
Carnival Cruise lines has cancelled all 4 & 5 day cruises after February 12, 2009. It appears the high fuel prices has forced Carnival to shift to shorter cruises to Ensenada and Catalina Island. Please see letter from Carnival below. Full refunds are being made to those who have made deposits and/or paid for their cabins. The Reunion Committee is asking that everybody request their refunds via the contact information below. We will re-group and re-evaluate our options for a possible future reunion. We apologize for the inconvenience and disappointment this will no doubt cause many of you.
Group Cruise Vacation Planner
Phone: 1-866-721-3225
Fax: 305-406-6199
Booking Number 8X76D1
Hours: Monday - Friday 10am to 6:30pm Eastern Time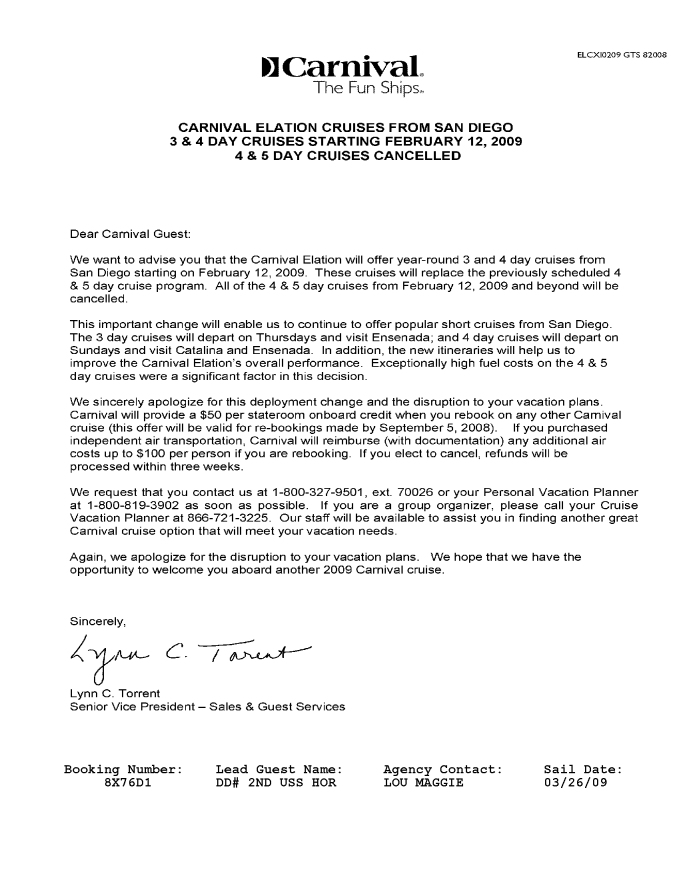 ==================================
CRUISE ITINERARY
The Cruise will depart San Diego on Thursday March 26, 2009 at 1600. We spend a day at sea on Friday March 27th and arrive at Cabo San Lucas, Mexico at 8am on Saturday March 28th. We begin our return trip Saturday afternoon at 1600 and spend another full day at sea on Sunday March 29th. We return to San Diego at 8am on Monday March 30, 2009.
Thursday March 26th 2009 - Depart San Diego 1600
Friday March 27th - Fun Day at Sea
Saturday March 28th - Cabo San Lucas, Mexico 0800-1600
Sunday March 29th - Fun Day at Sea
Monday March 30th - Arrive San Diego 0800
Details regarding attire, specific reunion functions, speakers etc are still being worked out but as more information becomes available it will be published on the USSHorne.net Website and distributed via this Newsletter.
==================================
CRUISE PRICING
Take a virtual tour of the various staterooms available by
CLICKING HERE
Carnival is currently quoting us the following prices. All prices are PER PERSON and based on double occupancy. Prices include meals but do not include fees, taxes or gratuity.
---
REUNION COMMITTEE

On 04/23/08 the 2009 Horne Reunion Cruise Committee (HRCC) was formed.
Your 2009 reunion committee members are:
Lou Maggi: Reunion Committee President (RCP)
- Lou served in Horne 1975-1978 and was Treasurer for the 2003 Reunion.
Rufus Reaves: Reunion Committee Treasurer (RCT)
- Rufus served in Horne 1970-1972 and was President of the 2003 Reunion Committee.
Joe Westerberg: Reunion Committee Communications Director (RCCD)
- Joe served in Horne 1989-1991, created and maintains USSHorne.net and helped organize the 2003 Reunion.