USS Horne CG-30/DLG-30
America's Finest Cruiser


HOME | HISTORY | DECKLOG | AWARDS | PHOTOS | REUNION | MULTIMEDIA | SHIP'S LIBRARY | NEWSLETTER | STORE | DUES

BRANSON 2023 USS HORNE REUNION
MAY 4TH, 5TH & 6TH, 2023


RESERVE YOUR ROOM AT THE LODGE OF THE OZARKS.
Call 417.335.2555 Monday - Friday between 8am & 5pm Central Time
to reserve your room with a credit card.
ASK FOR RENEE!
SCROLL DOWN FOR ROOM RESERVATION DETAILS
HOTEL RESERVATIONS & INFORMATION


REGISTER FOR THE REUNION
CLICK HERE TO DOWNLOAD THE REUNION REGISTRATION FORM
SCROLL DOWN FOR REUNION ACTIVITIES DETAIL
ACTIVITY DETAILS AND REGISTRATIONS
---
RESERVE YOUR ROOM NOW AT
THE LODGE OF THE OZARKS.
Call 417.335.2555 Monday - Friday between 8am & 5pm Central Time
to reserve your room with a credit card. Rooms charges will be
collected upon arrival.
ASK FOR RENEE!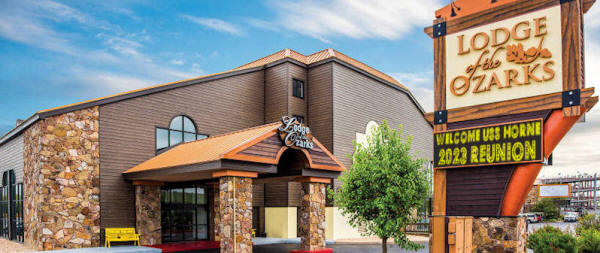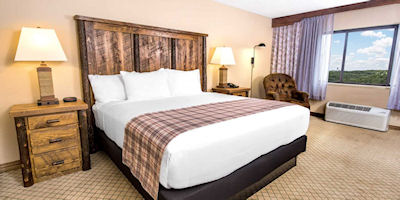 The Branson 2023 Horne Reunion will be headquartered at The Lodge of The Ozarks.
The Lodge's prime location on Branson's famous "76 Strip" allows guests to walk to shows, attractions, restaurants, and shopping.
Affordable, luxurious room accommodations feature upscale rustic lodge décor, in-room refrigerator and coffee maker,
55" mounted TVs, hairdryer, iron and ironing board, and free Wi-Fi. All rooms are non-smoking and no pets are allowed.
The property has interior corridors, elevators, a large indoor pool, and fitness center. Parking is free and parking is flat—no hills!
Check-in is 3:00 p.m. Check-out is 1:00 p.m. Lodge of the Ozarks serves a complimentary hot, deluxe breakfast every morning
from 7-10:00am in our beautiful, spacious dining area. Breakfast buffet includes scrambled and hard-boiled eggs,
potatoes, sausage or ham, biscuits & sausage gravy, French toast, make-your-own fresh Belgium waffles, multiple toppings,
bagels and assorted breads, donuts, fresh fruit, yogurt, hot & cold cereals, juices, coffee, cappuccino, tea, and hot chocolate.
*******
NO RESORT FEE - FREE PARKING - FREE BREAKFAST
Horne Reunion attendees get a special room rate + tax
STANDARD DOUBLE: Weekday rate : $99.95 - Weekend Rate: $129.95
STANDARD KING: Weekday rate: $104.95 - Weekend Rate: $134.95
(SPECIAL HORNE RATE GOOD 3 DAYS BEFORE, DURING AND 3 DAYS AFTER REUNION)
per room based on SINGLE or DOUBLE ADULT occupancy.
PLEASE NOTE: STANDARD KING ROOMS WILL GO FAST!
$10 + tax per night charge will apply for each additional adult in the same room.
Children 17 & Under stay free in same room as parents.
Maximum room occupancy is 4 adults OR 2 adults & 3 children.
Lodging includes complimentary hot, deluxe breakfast each morning.
*******
HOTEL RESERVATIONS:
HORNE REUNION ATTENDEES
Call 417.335.2555 Monday - Friday
between 8am & 5pm Central Time to reserve your room with a credit card.
ASK FOR RENEE!
Room reservations may be cancelled no less than 24 hours prior to arrival date and NO PENALTY will apply.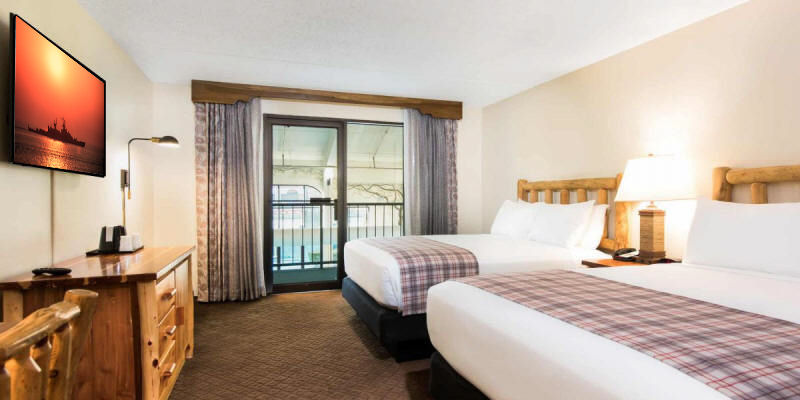 C

all 417.335.2555 Monday - Friday between 8am & 5pm Central Time to reserve your room with a credit card. ASK FOR RENEE!
ROOM RESERVATIONS - It is highly recommended you reserve your room for the
Branson 2023 Horne Reunion as soon as possible. Your credit card will not be charged.
And you may cancel up to 24 hours before the reunion arrival date of May 4th.
LODGE OF THE OZARKS
3431 W 76 COUNTRY BLVD
BRANSON, MO 65616
CLICK HERE TO VIEW MAP WITH LODGE OF THE OZARKS

---

$100 REUNION REGISTRATION INCLUDES:
THURSDAY EVENING PIZZA PARTY,
HOSPITALITY ROOM RENTAL (3 DAYS)
HOSPITALITY DRINKS (BEER, WINE, SODAS) & SNACKS (3 DAYS)
MARGARITAS ON CINCO DE MAYO
PHOTO NAME TAG WITH LANYARD
SATURDAY NIGHT BANQUET DINNER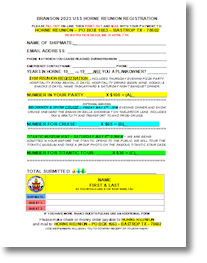 DOWNLOAD THE REGISTRATION FORM HERE
SEE ACTIVITY DETAILS BELOW!

THURSDAY - MAY 4TH - 2023
We open the HOSPITALITY ROOM at Lodge of the Ozarks @ 4pm.
Hotel check in is at 3pm so that gives you time to get settled.
We'll hand out name tags and check everybody in.
Around 5 or 6 we'll have Pizza Delivered from Papa Johns
DRINKS - BEER - WINE - SOFT DRINKS - WILL BE PROVIDED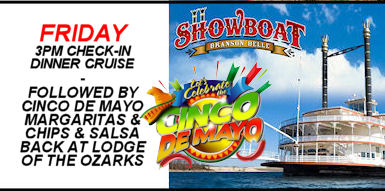 FRIDAY - MAY 5TH - 2023
We open the HOSPITALITY ROOM at 10am.
Free Time until 3pm when we should be pier side at the Branson Belle.
The Dinner & Show Cruise will last to around 7pm.

After the cruise we head back to Lodge of the Ozarks for Cinco de Mayo
Margaritas - Chips - Salsa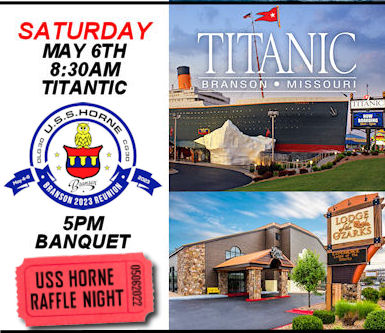 SATURDAY - MAY 6TH - 2023 - BIG DAY - BUSY DAY!
We start the day with a tour of the Titanic Museum.
We'll be admitted 1/2 hour before the public. In addition
to touring the Titanic we'll have an opportunity to take a
GROUP PHOTO on the FAMOUS GRAND STAIR CASE!
We'll finish up at the Titanic by around 11am.


We'll have free time until we meet back at the
Hospitality Room for Banquet Night,
Speakers & the Raffle!
The final menu is still being finalized but right now it's
Brisket & Chicken and sides. We may also have Shrimp. And
we'll have cheese tortellini and vegetarian lasagna.
No need to select your entree in advance as our caterer promises
to bring enough of everything for everybody.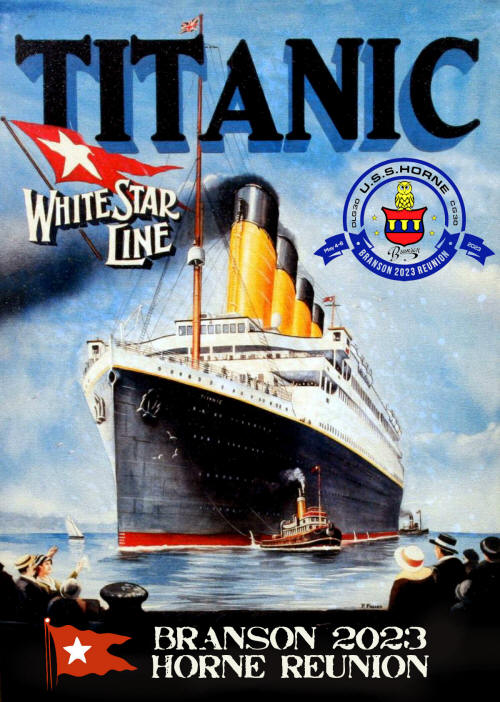 WATCH THE VIDEO
MORE DETAILS HERE AS THEY BECOME AVAILABLE!
CHECK BACK OFTEN
---
TRAVELING BY AIR? THESE SITES MAY HELP!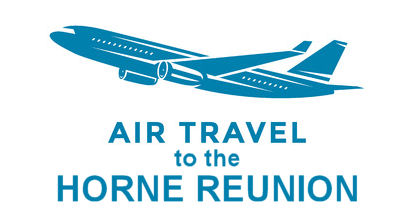 Branson's airport is an independent, private airport.
Frontier is the only airline option at this time
www.flybranson.com
-
Springfield/Branson Airport is what most folks use (Springfield MO).
It's about a 50-minute, very easy drive straight down the interstate to Branson.
Airlines are American, Allegiant, Delta, United.
www.flyspringfield.com
-
Saint Louis is an international airport and is about a 4 to 4-1/2 hour drive to Branson.
While this is quite a drive, there are guests coming from areas across
the nation who find a much better rate flying into St. Louis.
www.flystl.com
Contact: ic1@usshorne.net