USS Horne CG-30/DLG-30
America's Finest Cruiser


HOME | HISTORY | DECKLOG | AWARDS | PHOTOS | REUNION | MULTIMEDIA | SHIP'S LIBRARY | NEWSLETTER | STORE | DUES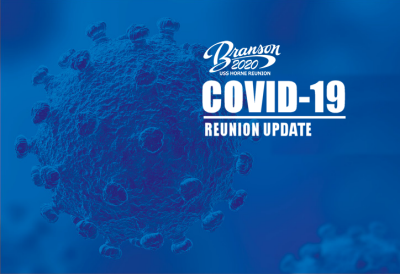 PLEASE READ THE COVID-19 REUNION UPDATE LETTER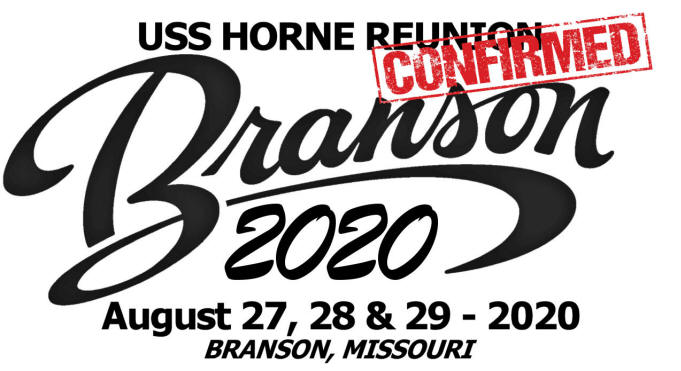 REGISTRATION IS NOW OPEN!


RESERVE YOUR ROOM AT THE LODGE OF THE OZARKS.
Call 417.335.2555 Monday - Friday between 8am & 5pm Central Time
to reserve your room with a credit card. ASK FOR RENEE!
SCROLL DOWN FOR MORE ROOM RESERVATION DETAILS

CLICK HERE TO OPEN THE REGISTRATION FORM.
THIS FORM IS FILLABLE SO YOU CAN FILL IT OUT ON-LINE.
FILLOUT THE REGISTRATION FORM COMPLETELY. PRINT OUT THE
COMPLETED REGISTRATION FORM AND MAIL ALONG WITH YOUR PAYMENT TO:
HORNE REUNION - PO BOX 1663 - BASTROP TX - 78602
MAKE CHECK OR MONEY ORDER PAYABLE TO: HORNE REUNION

STAY UP-TO-DATE WITH REUNION NEWS AND INFORMATION
BY VISTING THIS PAGE OFTEN, CHECKING YOUR EMAIL
AND VISITING THE HORNE FACEBOOK PAGE!

BE AT THE LODGE OF THE OZARKS IN BRANSON, MO ON AUGUST 27, 2020
AT 3PM FOR REUNION CHECK-IN, NAME TAG, ANNOUNCEMENTS, DINNER, DRINKS
AND MEET YOUR SHIPMATES!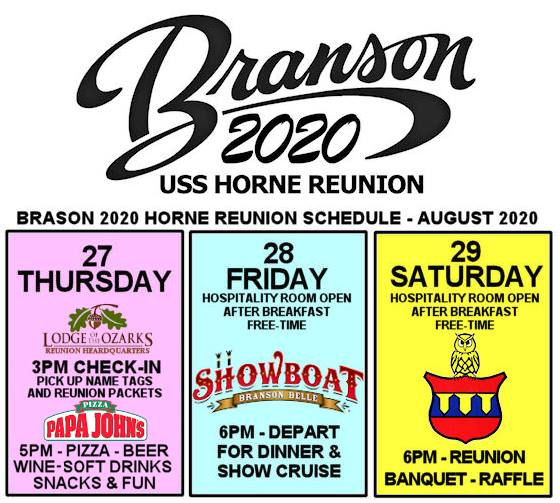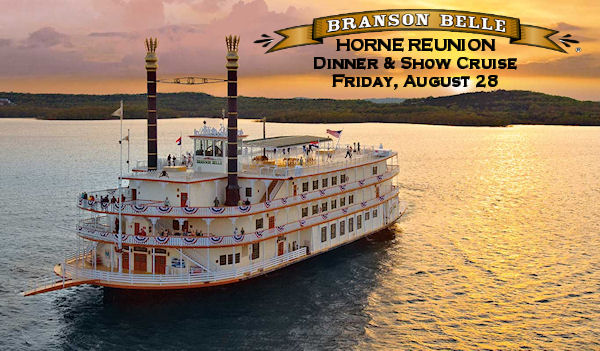 We'll be taking a sunset Dinner & Show Cruise on Friday, August 28, 2020.
The cruise price of $60 per person includes Dinner (Beef, Chicken or Vegetarian),
Show, Sunset Cruise, Bus Transportation to & from Tablerock Lake and Gratuity.
The cruise is optional and is not included as part of the $80 Reunion fee. If you would like to
go on the cruise just include payment with your reunion registration.
Watch the video below for more about the incredible Branson Belle Showboat!
ROOM RESERVATION DETAILS BELOW!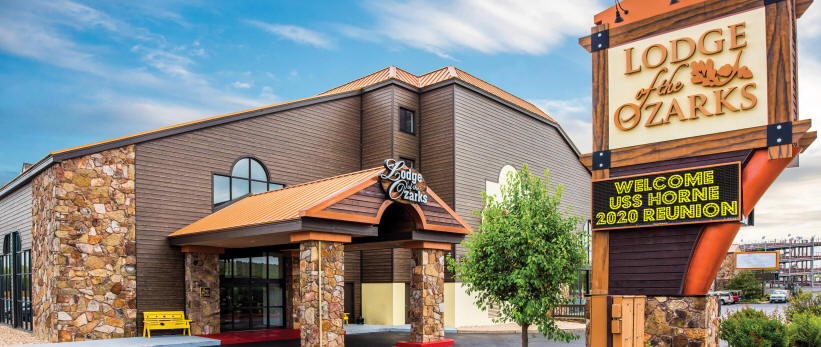 The Branson 2020 Horne Reunion will be headquartered at The Lodge of The Ozarks.
The Lodge's prime location on Branson's famous "76 Strip" allows guests to walk to shows, attractions, restaurants, and shopping. Affordable, luxurious room accommodations feature upscale rustic lodge décor, in-room refrigerator and coffee maker, 55" mounted TVs, hairdryer, iron and ironing board, and free Wi-Fi. All rooms are non-smoking and no pets are allowed. The property has interior corridors, elevators, a large indoor pool, and fitness center. Parking is free and parking is flat—no hills! Check-in is 3:00 p.m. Check-out is 1:00 p.m. Lodge of the Ozarks serves a complimentary hot, deluxe breakfast every morning from 7-10:00am in our beautiful, spacious dining area. Breakfast buffet includes scrambled and hard-boiled eggs, potatoes, sausage or ham, biscuits & sausage gravy, French toast, make-your-own fresh Belgium waffles, multiple toppings, bagels and assorted breads, donuts, fresh fruit, yogurt, hot & cold cereals, juices, coffee, cappuccino, tea, and hot chocolate.
*******
Horne Reunion attendees get a special room rate of $86.95 + tax
per room based on SINGLE or DOUBLE ADULT occupancy.
Rooms will be less than $99 per night INCLUDING tax.
There is NO resort fee and parking is FREE!
$10 + tax per night charge will apply for additional adults in the same room.
Children 17 & Under stay free in same room as parents.
Maximum room occupancy is 4 adults OR 2 adults & 3 children.
Lodging includes complimentary hot, deluxe breakfasteach morning.
*******
HOTEL RESERVATIONS:
HORNE REUNION ATTENDEES need to call 417.335.2555 Monday - Friday
between 8am & 5pm Central Time to reserve your room with a credit card. ASK FOR RENEE!
Room reservations may be cancelled no less than 24 hours prior to arrival date and NO PENALTY will apply.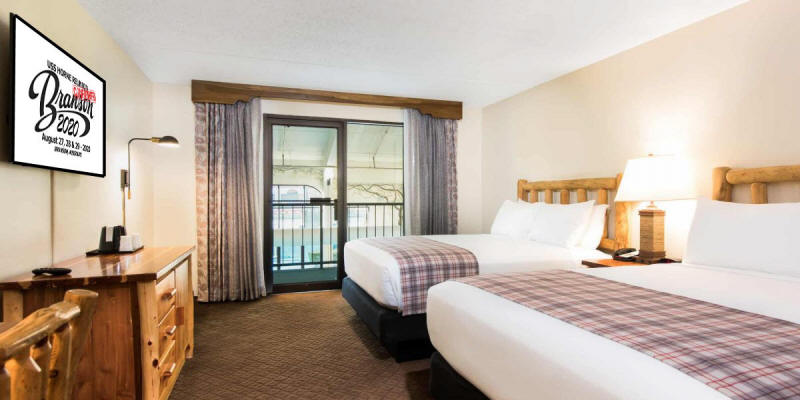 ROOM UPGRADES are available. You can upgrade to a STANDARD KING OR BALCONY KING
and JETTED DOUBLE QUEEN OR BALCONY JETTED DOUBLE QUEEN ($5 EXTRA PER NIGHT)
OR JETTED KING OR BALCONY JETTED KING ($10 PER NIGHT) subject to availability. Check with hotel for details!

C

all 417.335.2555 Monday - Friday between 8am & 5pm Central Time to reserve your room with a credit card. ASK FOR RENEE!
ROOM RESERVATIONS - It is highly recommended you reserve your room for the
Branson 2020 Horne Reunion as soon as possible. Your credit card will not be charged.
And you may cancel up to 24 hours before the reunion arrival date of August 27.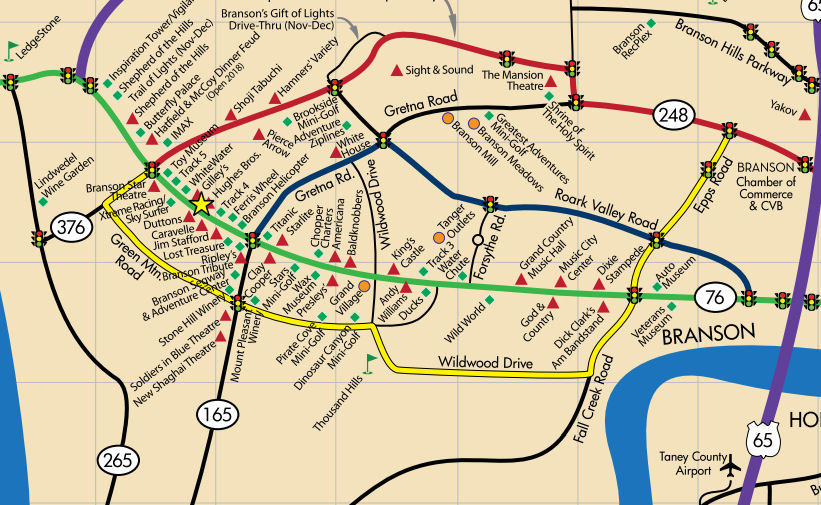 Bravo Zulu to Plankowner Larry Goolsby who worked hard finding us a great place to call Headquarters for the USS Horne 2020 Reunion.
Larry traveled to Branson recently and scouted out several locations, ultimately getting us a great contract with The Lodge Of The Ozarks.
(Located where the Yellow Star is on this map! We're right in the middle of all action!)
August 27-29, 2020 - Branson, MO.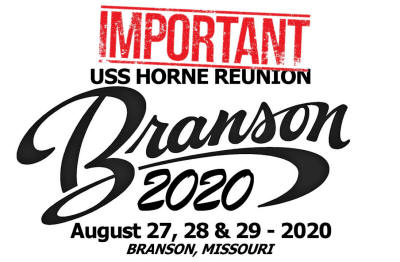 PLEASE READ! Branson 2020 Horne Reunion Headquarters will be at The Lodge of the Ozarks.
The Lodge has practically GIVEN us use of their giant 4,700 sq ft Crystal Hall Meeting Room for 3+ days.
I say practically because they are only charging us a $400 set-up fee for exclusive use throughout
the entire reunion. They even discounted that set-up fee for us. The Lodge is not making any money
from the Crystal Hall. They ONLY make money from rooms, which by the way they also discounted for us.
Therefore, all guests using Crystal Hall MUST BE REGISTERED GUESTS OF THE LODGE OF THE OZARKS.
This means ALL REUNION ATTENDEES must be registered guests of The Lodge of The Ozarks.
HOWEVER, attendees who live in the Branson area and attendees with RVs/Campers etc will be allowed entrance
to the Crystal Hall during the reunion. ONLY HOTEL GUESTS will receive free breakfast.
We really don't see any reason to be staying at another hotel. We are getting discounted rooms that include breakfast,
no resort fee and free parking where all your shipmates are staying! We thank you for your understanding.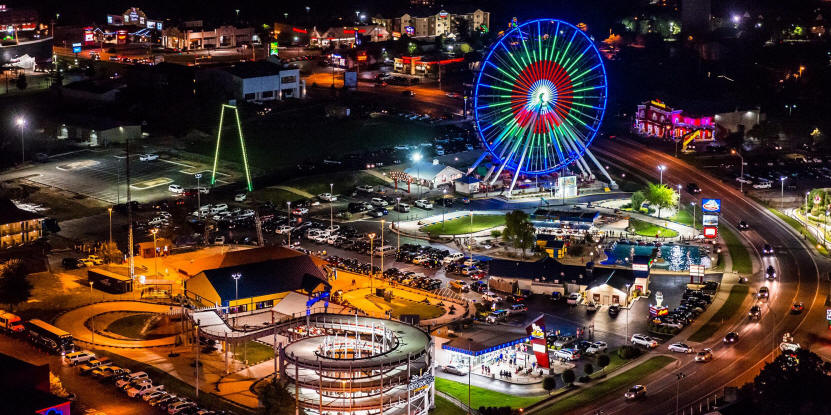 Branson, MO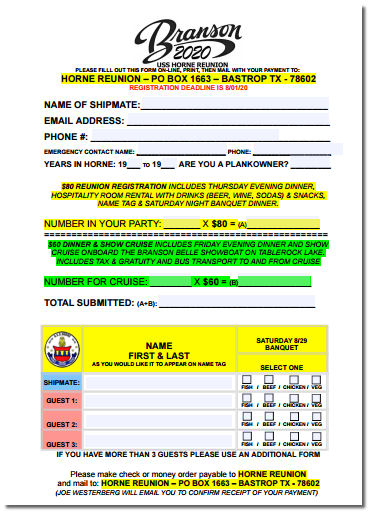 CLICK HERE TO OPEN THE REUNION REGISTRATION FORM
FILL OUT THE FORM ON-LINE, PRINT AND MAIL ALONG WITH PAYMENT TO:
HORNE REUNION - PO BOX 1663 - BASTROP TX - 78602