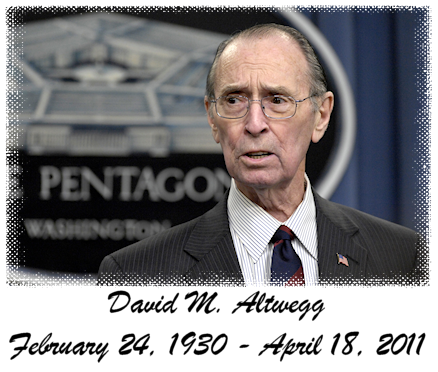 Former Horne Skipper (Sept '73 - June '75)
The family is requesting donations to the Navy Safe Harbor program in honor of Admiral Altwegg.
www.safeharborfoundation.org
CLICK HERE FOR MORE INFORMATION ON THE PASSING OF RADM ALTWEGG
The following is from an internal email sent by Missile Defense Agency Director Lt. Gen. Patrick O'Reilly:

It is with great sadness that I am notifying you that Dave Altwegg passed away last night. (04.18.11) Dave's life was a testament to patriotism, dedication, leadership, mentorship and compassionate caring who inspired all of those that had the great fortune to serve with and know him. Dave's every action, every day, showed he truly cared for the men, women and mission of the US Navy, MDA, and our Nation. For the 64 years he served our country proudly. His legacy of dedication, commitment, loyalty, excellence, achievement and exuberance for life will endure with this Agency. I know you share in grief and fond memories with his wife, daughter and grandchildren -- please keep them in your thoughts and prayers.

Dave's plan was for an interment at Arlington cemetery. It will most likely be a month or two before the interment occurs - we will keep everyone informed on all funeral arrangements.

Altwegg, a 1952 graduate of the U.S. Naval Academy, retired from federal service last February, according to an MDA statement released at the time:
A member of the Senior Executive Service since 1987, he has been assigned to MDA since 2002. As the MDA Executive Director he is the highest ranking civilian within the Agency, providing oversight, leadership, direction and guidance to all MDA functional staff, ensuring the effective integration and organization of all MDA functions required to develop and sustain an effective Ballistic Missile Defense System program. He also serves as a key interface to the Office of the Secretary of Defense, the Military Services and the Congress.

A retired Rear Admiral in the U.S. Navy, Mr. Altwegg was appointed to the Senior Executive Service on January 15, 1987. He served in various positions of increasing responsibility in the U.S. Navy, leading the development of complex combat systems, and culminating with his appointment as Deputy Assistant Secretary of the Navy for Theater Combat Systems. He reported to MDA in August 2002 and served as the Deputy for Program Integration and as the Deputy for Agency Operations before assuming his current position as MDA's Executive Director. He is the senior advisor to the MDA Director on all issues relating to the Agency's policy and management activities, including responsibility for an approximate annual budget of more than $8 billion.

As a Naval Officer, his five command tours include USS MAHAN (DLG-11); USS HORNE (DLG-30); Naval Ship Weapon Systems Engineering Station, Port Hueneme, Calif.; Pacific Missile Test Center at Pt. Mugu, Calif. and Cruiser Destroyer Group TWO. After more than 38 years in uniform, Rear Admiral Altwegg retired from military service on November 1, 1985, having earned distinct honors including the Legion of Merit, the Bronze Star Medal with Combat "V", the Meritorious Service Medal, the Navy Commendation Medal, the National Defense Service Medal with one bronze star, the Korean Presidential Unit Citation, and the Vietnamese Naval Advisory Award, Second Class with rosette. He is also authorized to wear the China Service Medal, the Korean Service Medal with two stars, and the United Nations Service Medal.

In what was to be his final briefing on the agency's annual budget, Altwegg in February 2010 blasted the agency's defense contractors for an across-the-board failure to maintain quality control when building missile defense systems, Inside Missile Defense reported:
"I'm not going to name names today, but I'm going to tell you, we continue to be disappointed in the quality that we are receiving from our prime contractors and their subs," MDA Executive Director and retired Rear Adm. David Altwegg told reporters during a February 1 briefing on his agency's fiscal year 2011 budget request. "Very, very disappointed."

Altwegg said it wasn't just quality design issues, "but more in quality of products delivered. Which then results in re-work, and then . . . because most of these contracts are cost contracts, it costs the taxpayer more."

While declining to specifically identify any firms, "I am excusing no one from this conversation," he said, adding: "We have problems with all of our primes."

Officials from the Government Accountability Office will visit the agency this month to discuss quality issues, the retired rear admiral said.

The root cause of the problem, according to Altwegg, stems from a "lack of attention to detail.
Missilery is all about detail." He cited a Terminal High Altitude Area Defense System test in December where the target missile, which deployed in the air from a cargo aircraft via a drag chute, failed to ignite and plunged into the ocean.

"The failure review board disclosed a big-time quality problem" with that target system, Altwegg said.
When asked when the quality issues began to be problematic, he responded: "It's been a continuing effort in our programs."
The family is requesting donations to the Navy Safe Harbor program in honor of Admiral Altwegg.
www.safeharborfoundation.org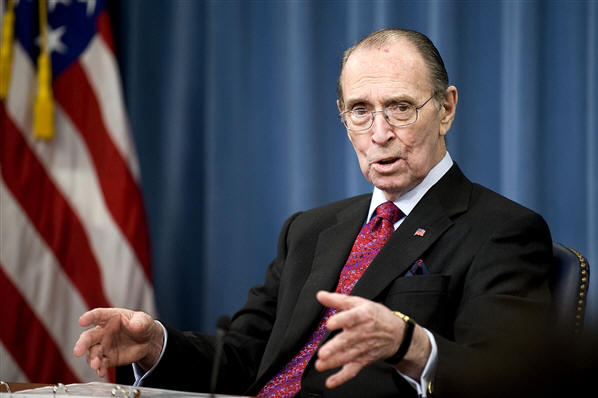 RADM David Altwegg