2016 USS Horne Reunion - San Antonio, TX
We had an outstanding Reunion in San Antonio.
Larry and Linda Goolsby did a fantastic job of organizing and administering the reunion.
And the finances were so well managed, Larry provided everybody with a rebate upon arrival.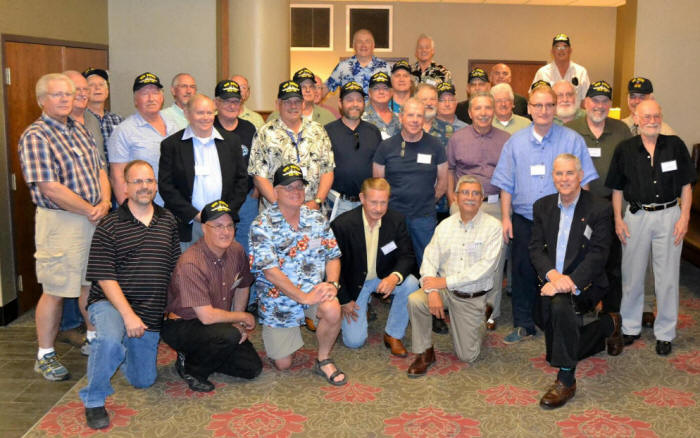 2016 GROUP PHOTO

Front row: Mike Cervini, David Dillingham, Jim Kitzmiller (Captain USN), Glen Bartholomew, Sergio Marquez, Thomas J. Barnett (Captain USN-Ret).
Row 2: Herb Carlson, Tom Odom (light blue shirt/black jacket), John Kautz, Dennis Jacobs, John Clark, Carl Fisher, Jay Lindley (light blue shirt), Dan Annett & Joe "Muff" Johnson.




Row 3: Dick Johnson, Larry Goolsby, George Maute.




Row 4: Jim Boswell, Jerry Cox, Jim Jordan, Robert Brooks, Jim Ferris, Doug Grice (behind John Clark & Carl Fisher), Jim Shook, Duane Skoglund, Dave Stainbrook, Moises Elizondo (behind Dan Annett), Keith Foris.




Row 5: Ed Scribner (on Robert Brooks' Shoulder), Bill Weber (behind Doug Grice), David Patterson (black t-shirt), Paul Joyce.




Back Row: Joe Westerberg, Ron Tomcek, Bud Shelley (white shirt).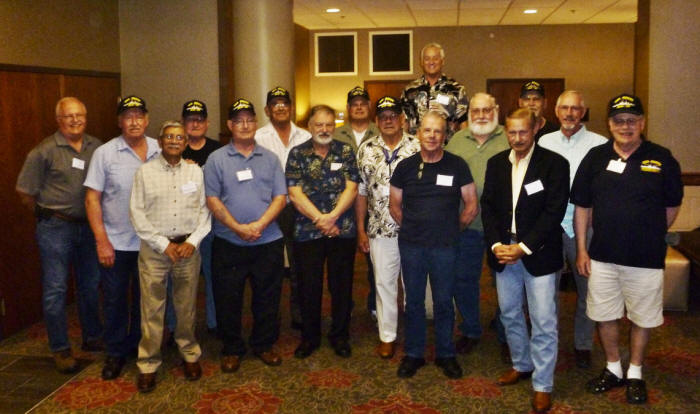 2016 PLANKOWNERS
L-R: Dick Johnson, Larry Goolsby, Sergio Marquez, George Maute, Jim Shook, Bud Shelley,
Doug Grice, Robert Brooks, John Kautz, Ron Tomcek (high, in back), John Clark
(front, black t-shirt), Dave Stainbrook, Glen Bartholomew, David Patterson, Jerry Cox,
THE 2016 SAN ANTONIO REUNION
The 2016 USS Horne Reunion was a great success. Attendees visited nearby Fredericksburg, home to Chester Nimitz and the
Pacific War Museum. Linda and Larry Goolsby did a wonderful job of organizing everything. There was plenty of food and lots
of drinks. On banquet night, we received a detailed Gulf War briefing from Horne's Desert Storm Skipper, Captain Tom Barnett. The skipper
took us behind the scenes of Gulf War Operations which included dodging silkworm missiles in a combat zone and spending 11 days in an area
infested with mines. After the banquet we heard about the sad story of our shipmate, Bill Dies. We had a raffle and Sergio & Linda Marquez received
the first ever Cracker Jack Award commemorating Sergio's 50 years of dedication to USS Horne. Gail Annett was outstanding as the reunion
photographer. She took nearly 500 photos and took the time to label each and every one with names and other details. Thank you, Gail.
View all the photos by clicking on the link below!

CLICK HERE TO VIEW PHOTO THE ENTIRE HORNE REUNION PHOTO ALBUM