USS Horne CG-30/DLG-30
America's Finest Cruiser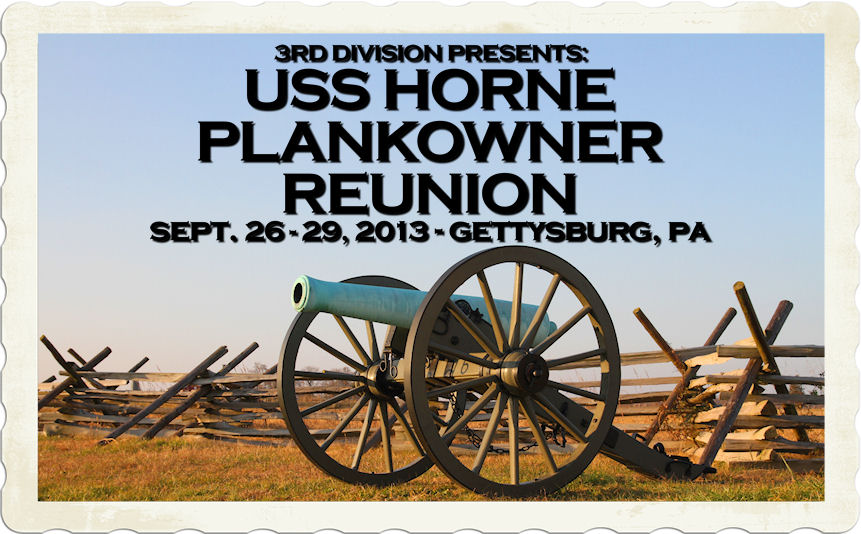 THIRD DIVISION IS SPONSORING ANOTHER PLANKOWNER REUNION IN HISTORIC GETTYSBURG, PA SEPTEMBER 26, 27, 28, & 29, 2013.
THE EISENHOWER HOTEL AND CONVENTION CENTER. MARK YOUR CALENDERS!!!
ROOM RATES WILL BE $104.34 TAX INCLUDED. REUNION FEE OF $125/ PERSON WILL COVER TWO EVENING MEALS, A GUIDED BUS TOUR OF THE BATTLEFIELD AND HOSPTIALITY ROOM EXPENSES.
THE HOTELíS WEBSITE IS www.eisenhower.com. CHECK IT OUT!!
THIS IS THE FIRST OF A SERIES OF ANNOUNCEMENTS TO GIVE MORE INFORMATION ABOUT RESERVATIONS AND PLANNED ACTIVITIES.
WE ARE ATTEMPTING TO REACH ALL PLANKOWNERS. IF YOU KNOW OF ANY
PLANKOWNER WHO DO NOT KNOW ABOUT THIS REUNION, PLEASE FORWARD IT.
NOTE THAT ANYONE WHO SERVED ON HORNE IS WELCOME!!
Contact : John Kautz 717-249-5476, E-MAIL jak7647@yahoo.com
or Ken Youngmann 410-877-3060, E-MAIL woodwarp@verizon.net