USS Horne CG-30/DLG-30
America's Finest Cruiser


HOME | HISTORY | DECKLOG | AWARDS | PHOTOS | REUNION | MULTIMEDIA | COMMUNITY | NEWSLETTER | STORE | DUES
THE SHIP - CONSTRUCTION - COMMISSIONING
ODDS & ENDS - SHIPMATES - HORNE TODAY
Horne's final mission was to serve as a target ship during RIMPAC exercises along with several other ships. Horne was sunk after 3 direct hits "amidships aft". Three AGM-84 Harpoon Missiles were fired from aircraft attached to Carrier Air Wing 5. Horne sank north of the Island of Kauai on 07/14/08.

COORDINATES:
N22.55.00 W159.55.00
DEPTH: 2,575 fathoms - 15,450 feet - 2.926 miles

RIMPAC 2008 info is available at the Navy's official RIMPAC page. USSHorne.net net will be updated as more information becomes available.

SeaWaves Magazine also has a RIMPAC 2008 page up which lists all the units participating including Horne and Ray. SeaWaves RIMPAC 2008 page

Tribute video: USS Horne 1967-2008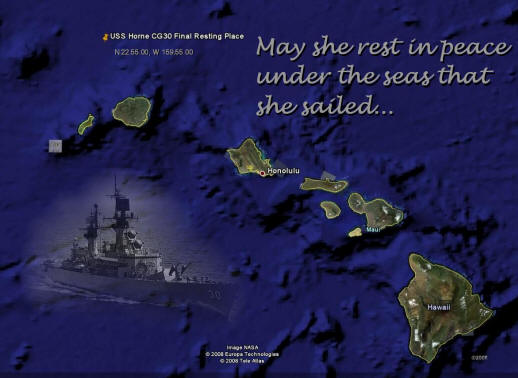 Horne Wallpaper - Courtesy Larry Leboeuf - In Horne 1971-1974 - CLICK TO ENLARGE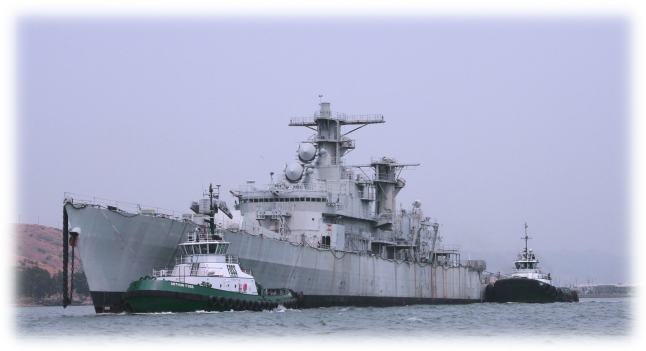 Horne begins her final voyage (06/26/08)
Photo courtesy Warren Smith - Foss Maritime Co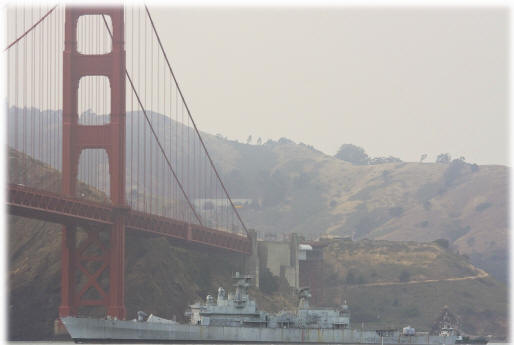 Horne begins her final voyage (06/26/08)
Photo courtesy Dave Tudman

06/26 - KGO ABC TV - "Navy warship sails for it's final voyage" (Video)
06/26 - Oakland Tribune - "Old warship leaves Richmond"
06/26 - San Jose Mercury News - "Old warship leaves Richmond"
06/26 - San Francisco Chronicle - "A Warship built at Hunters Point is to be sunk"
06/26 - Fox Reno - "Old Gray Lady Given Death Sentence" (Video)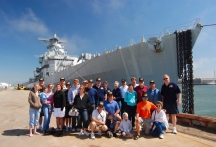 A final Horne muster was held on Sunday, May 18th at 10am in Richmond, CA.
CLICK HERE for photos, video and comments.
Still Horne!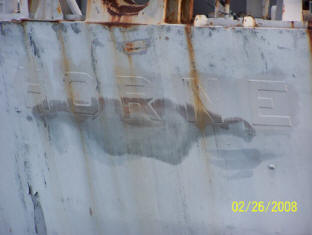 Stern Shot courtesy John Bates on the Red Oak Victory (click to enlarge)
DO YOU HAVE INFORMATION, PHOTOS OR VIDEO RELATED TO HORNE'S SINK-EX?
Please send it to ic1@usshorne.net - Note... there is spam protection associated
with this address so watch your in-box for an authentication email. Thank you!
Your contribution to documenting the final chapter in Horne's history will
be greatly appreciated.

On February 26, 2008, Horne was moved from her Suisun Bay location where she was prepared for what's commonly referred to in the Navy as a Sink-Ex... short for Sinking Exercise. Horne will be spared the ship-breakers in Brownsville, Texas and will instead perform one final mission as a target during RimPac2008. If she follows other targets her final resting place will be under five miles of water in the South Pacific. Details and photos of this final chapter in Horne's history can be found on this page. This page will be updated on a regular basis as more photos and information become available.
CLICK ON IMAGES FOR DETAIL
Thanks to Captain Anonymous for the 4 photos above!

Thanks to John Bates on the Red Oak Victory for the 8 photos above.
Thanks to Clint Skinner who took the 8 photos above from the Suisun Bay bridge.
Click on the photos above to see detail of Horne as she was being moved to her current location in Richmond, CA.
Special Thanks to Matt (former AT2 (NAC/AW) for the five photos above.
The photos above show Horne's current location where she's being prepared for the Sink-Ex Click on photos for detail.
Thanks to Carl Wade (CWO4 USN Ret) in Horne 1970-1971 as an FTM1.
Carl paid a visit to Horne on 3/14/08 and provided these pics. Can you find "Horne" and "30"?


This site was created by Joe Westerberg, former IC1 (SW) on Horne 89-91.
Contact: ic1@usshorne.net