USS Horne CG-30/DLG-30
America's Finest Cruiser


HOME | HISTORY | DECKLOG | AWARDS | PHOTOS | REUNION | MULTIMEDIA | SHIP'S LIBRARY | STORE | DUES

LODGING - ACTIVITIES - REGISTRATION - REUNION POLO SHIRT - MT SOLEDAD - PLAQUE FUND - DINNER CRUISE - FREE ROOM
REUNION UPDATES - PLEASE READ
JULY 31 - REUNION UPDATE

The Next Horne Reunion will be held in San Diego!
Reunion Headquarters will be the
Wyndham San Diego Bayside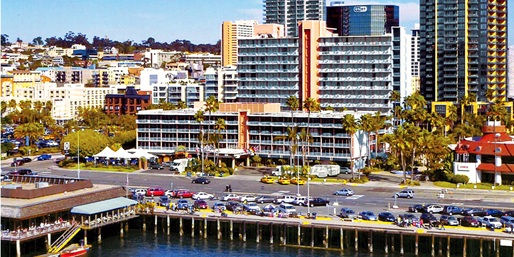 1355 NORTH HARBOR DRIVE, SAN DIEGO, CA 92101
1(866)-781-2632
FREE AIRPORT SHUTTLE:
If you are flying into San Diego, The Wyndham offers a free airport shuttle.
The shuttle operates 7 days a week from 5am to 12am. It departs every 15 minutes from 5am to 9am then
every 30 minutes from 9am to Midnight. The shuttle picks up guests at the "courtesy shuttle pickup area."
It's well marked and easy to find once you exit the airport. Look for the White Shuttle with the Wyndham Logo.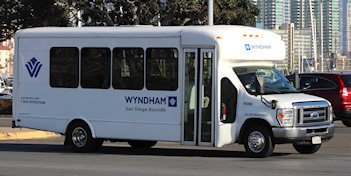 CLICK HERE TO RESERVE YOUR ROOM
USS Horne Reunion Attendees will be offered a $139 room rate (plus taxes & fees)
up to 3 days before, during and 3 days after the reunion dates of January 3, 4 & 5th, 2019.
The $139 room rate is based on 1 or 2 persons staying in the room.
Add $20 for each additional person. Maximum 4 people per room.
Rooms may be upgraded to Bay View for an additional $20.
YOUR ROOM COULD BE FREE (SEE BOTTOM OF PAGE)
THE WYNDHAM IS NOW TAKING RESERVATIONS
You may reserve your room NOW by CLICKING HERE
and selecting ATTENDEE from the pull-down menu.
Or by calling 1(866)-781-2632 - Just tell them you want the Horne Reunion Rates.
NOTE: The Wyndham does not charge any "Resort Fee" but does charge $29 per night for parking.

THURSDAY, JAN 3 - CHECK IN - MEET & GREET - HORNE HOSPITALITY ROOM
PORTHOLE ROOM @ THE WYNDHAM

FRIDAY, JAN 4 - DAY TRIP TO LA JOLLA TO DEDICATE COMMEMORATIVE PLAQUE FOR
USS HORNE AND MEMORIAL PLAQUES FOR ADM STANSFIELD TURNER AND RADM LAWRENCE LAYMAN.
MT SOLEDED NATIONAL VETERANS MEMORIAL DRESS: CASUAL BUT PRESENTABLE (HORNE POLO)
FRIDAY, JAN 4 - EVENING DINNER CRUISE ON SAN DIEGO BAY ABOARD
A HORNBLOWER YACHT - DRESS: CASUAL BUT PRESENTABLE
SAT, JAN 5 - DAY - TO BE DETERMINED - POSSIBLE NAVY SHIP VISIT
SAT, JAN 5 - EVENING - HORNE REUNION BANQUET - AWARDS - RAFFLE
IN THE HARBORSIDE ROOM AT THE WYNDHAM - DRESS: CASUAL BUT PRESENTABLE

REUNION REGISTRATION IS NOW OPEN!
$155 REUNION FEE - Includes 3 days hospitality room rental, refreshments (beer, wine, soft drinks)
& snacks, name tag & Saturday banquet room rental & buffet dinner
$30 BUS TRIP - Includes transportation from Wyndham to Mt. Soledad
$75 - DINNER CRUISE - Includes friday night dinner cruise aboard a Hornblower Yacht
CLICK HERE TO DOWNLOAD THE REGISTRATION FORM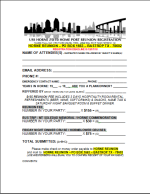 REGISTRATION INSTRUCTIONS:
1. DOWNLOAD THE REGISTRATION FORM BY CLICKING HERE
2. FILL OUT THE FORM ONLINE THEN PRINT OUT (PREFERRED)
OR
3. PRINT OUT THE BLANK FORM AND FILL OUT BY HAND (PLEASE PRINT)
4. ENCLOSE CHECK OR MONEY ORDER PAYABLE TO:
HORNE REUNION
5. MAIL TO: HORNE REUNION - PO BOX 1663 - BASTROP, TX 78602
If you have any difficulty downloading the form
EMAIL ME and I will email you a copy.

$23
(+$2 for XXL and +$3 for XXX-L) - DELIVERY AT REUNION
Available in Navy Blue and Haze Gray. Visit THE SHIP'S STORE to order yours.
Orders must be placed by 11/18/18


Please watch the video above then CLICK HERE to read about Mt. Soledad National Veterans Memorial
where we will be dedicating 3 large plaques to USS Horne, ADM Stansfield Turner and RADM Lawrence Layman


HORNE CREW, FAMILY & FRIENDS HAVE DONATED OVER $6,000
TO PURCHASE THESE PLAQUES! CLICK HERE TO READ ABOUT AND DONATE TO
THE USS HORNE
STANSFIELD TURNER
LAWRENCE LAYMAN
MT. SOLEDAD COMMEMORATIVE PLAQUE FUND
DONORS WILL BE RECOGNIZED BY A

RIBBON PLACED
NEXT TO THEIR DECKLOG ENTRY.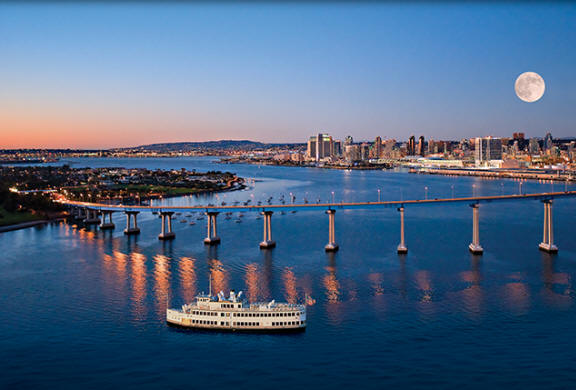 On Friday evening, we'll be heading out onto San Diego Bay for a 3 hour dinner cruise aboard a Hornblower Yacht.
CLICK HERE to read the dinner cruise menu (subject to change)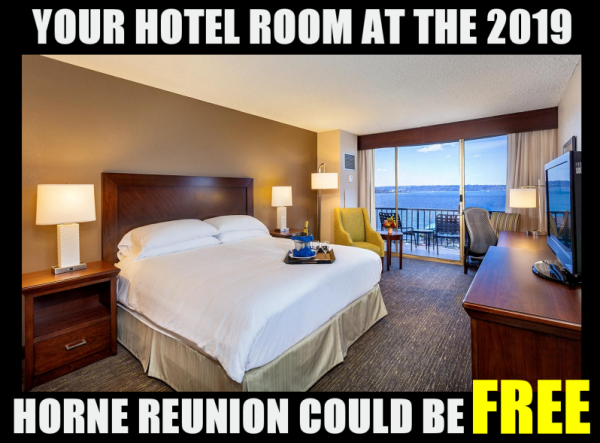 The USS Horne 2019 Home Port Reunion will be headquartered at the beautiful Wyndham San Diego Bayside, 1355 North Harbor Drive. Reunion Attendees will enjoy a special discounted room rate of $139 per night. But your room could be FREE! Simply refer as many of your Horne shipmates as you can to the reunion. Twist their arm, bribe them, or just convince them how much fun they're going to have. The person who refers the most people to attend the reunion will have their hotel room paid for. (Limit 3 nights) So start spreading the word.
SOMEBODY'S HOTEL ROOM WILL BE FREE!
You have until December to find as many shipmates as you can!
The Fine Print:
Attendees of the 2017 DC or 2016 San Antonio Reunion can not be used as referrals. If you refer 1 shipmate and he brings 2 additional family members, you'll be credited with 3 referrals. Your name must appear in the "referred by" section of the reunion registration form submitted by your referral to get credit for the referral credit. Only one person's name can be submitted in the "referred by" section. Results will be totaled and announced during the Reunion Banquet on Saturday, January 5, 2019. Limit 3 nights plus tax will be paid. Parking, room-service etc will not be included. In the event of a tie for most referrals between 2 or more attendees, a chance drawing between the eligible attendees will be held to determine who gets their room paid for. If you have any questions, contact ic1@usshorne.net.

UNTIL THE NEXT HORNE REUNION
Stay up to date on 2019 Reunion News by checking this page often:



This site was created by Joe Westerberg, former IC1 (SW) in Horne 89-91.
Contact: ic1@usshorne.net